Development Agency CAKRA Ltd.
– ČakRa d.o.o.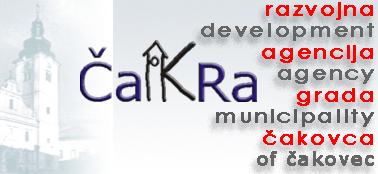 – Municipality of Čakovec was founded on April 17th 2007 by the Town Čakovec, its only founder and member. Legal status of the agency is governed by public law.
Basic goals and plans of activities
Manage public projects to receive financial resources from EU funds (IPA, PHARE) and domestic funds (Ministries of Croatia, HAMAG)

economic promotion of Town Čakovec (County of Međimurje) and attracting Croatian and foreign investors into the wider area of Town Čakovec

professional help to small and medium business in the wider area of Town Čakovec (preparation of investment studies, studies of feasibility and business plans, investigation of market, counseling and marketing services)

preparation of Public-private ownership for Town Čakovec (County of Međimurje) and interested units of local self-government in the wider area of Town Čakovec

preparation of development projects for units of local self-government, as well as for agricultural and tourist sector in the region North

development of life education through educational institutions in the wider area of Town Čakovec

informing public about the process of Republic of Croatia entering the European Union, organization of seminars, workshops and conferences on the topic

cross-border cooperation with development and supporting institutions (development agencies, entrepreneurial centers, incubators, technological parks, etc.) from Slovenia, Hungary and Austria with the purpose of connecting small and medium entrepreneurs, units of local self-government, and institutions of culture, education, communal infrastructure, environment protection and tourism.
Agency has successfully managed projects from EU funded Programme SAPARD, PHARE 2006 and IPA - The Instrument for Pre-accession Assistance for the period 2007 – 2013. ČAKRA LTD. actively participates in project preparation and implementation through various IPA components such as cross border cooperation with Slovenia and Hungary, human resource development and rural development (IPARD). From 2009, agency implements 5 successful EU projects financed from IPA Programme in a field of tourism, culture, education and environment protection.